Grow Better: How to Develop a Buyer Persona
Pre-Recorded Webinar

Do you know who your customers are? Most companies think they know but often base this off of a feeling rather than data. While instinct and experience are important, there are a few extra steps you should take to make sure you're solving the right problems for the right people. Tune in to our first webinar in our "Grow Better" series for a look at how to develop an unbiased buyer persona.
Here's a sneak peek at what you'll learn:
How to identify your buyer persona
Techniques for asking the right questions to the right people
How to best utilize the new information
How your personas should direct your strategy
Webinar Host
Alex Meade

,

Director of Sales & Marketing @ Beacons Point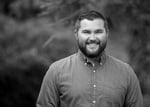 Alex has been helping companies grow by using value-based video content. When he's not working with businesses and their marketing, you can find him at a coffee shop, brewery, or watching Star Wars with his one-year-old son, Max.
Max Reinhardt,

Content Strategist @ Beacons Point